Next Sunday is the 2016 Tony Awards, and as usual, I feel more than a little unprepared for the show. However, I also think I'm better informed than I have been for the past few years thanks to a wealth of online resources (and because it seems pretty certain that Hamilton will be a juggernaut). Below are a few of my favorites just in case you are looking to do some cramming for the Tonys or in case you are looking for some great information on Broadway and theatre.
My go-to resource for all things Broadway is
BroadwayRadio
. I've been a longtime listener to their Sunday podcatsts (and Peter Filichia wrote the first theatre book I ever bought for myself). Recently, they've expanded their podcast, so they have one each weekday morning in addition to the one on Sunday. These daily podcasts are shorter (usually around 15 minutes each), and they include review round-ups for shows that have just opened as well as news related to Broadway and the theatre world. The hosts (James Marino and Matt Tamanini) have an obvious love of theatre, and their well-informed and strong opinions are always thoughtful and engaging. Additionally, BroadwayRadio seems to be acquiring new theatre-related shows on a weekly basis, so this is definitely a resource to check out!
Love them or hate them,
The New York Times
is a wealth of information on Broadway, and their Tony Awards section is extensive, with news, interviews, and videos. I also love following the theatre critics' liveblog and Twitter accounts during the awards telecast.
While this isn't a resource dedicated to theatre, I'd be remiss if I didn't include
the interview Broadway producer Scott Rudin did with Terry Gross on Fresh Air
. He had some wonderful insights into the backstage world of Broadway. Additionally, if you go into the
Fresh Air
archives, you can find some excellent interviews with other theatre personalities, including
Stephen Sondheim
,
Sheldon Harnick
, and
John Kander
.
Happy reading/listening!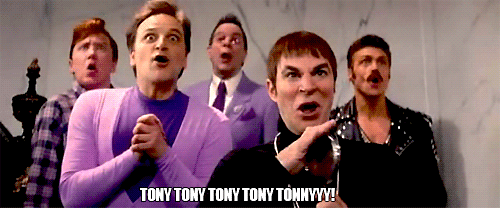 Yes, I know I posted this last year. And yes, I still think it applies.